Philosopher Arthur Schopenhauer struck by the macabre expanse of turtle skeletons probably resulting from being eaten alive by wild dogs wrote,"
For what offence must they suffer this agony? What is the point of the whole scene of horror? The only answer is that the will to live thus objectifies itself."
All creatures are thus instinctively evolved to cling tenaciously to life (both hunter and hunted), notwithstanding the tremendous odds. The book in review is one such tale of survival amid unbelievably horrendous tribulations.
A published author with critical acclaim chances upon his father's handwritten manuscript in a rusting steel trunk and discovers a "tale of unmitigated horror"*. Besides stray references, the father would never reveal the true depths of despair he underwent. For this was a job his son was destined to undertake. After lying around for 50 years, these papers are found by the son who edits and publishes them and our grand old man who has seen it all in life finds that life still hasn't ceased to surprise him; unbeknownst to himself he became an author at the age of 87!
Eaten By the Japanese: The Memoir of an Unknown Indian
is among the few wartime memoirs documenting a soldier's on-ground experience rather than a strategic perspective from the higher-ups. The book, heart-rending and soulful as it is, is also important in several others ways, chiefly to clear up some popular myths (we will get to this in a while).
Born into a devout Catholic family 20 miles from Mangalore, John Baptist Crasta (the author) joins British Indian Army (owing to poor family conditions) though he's remembered as a mild kid by his childhood friends. He's posted to Singapore during World War II. However after a brief breezy period hell breaks loose. Japanese overawe the British forces, and he along with all his colleagues are taken prisoners by them.
At this juncture, these soldiers are given a choice: to join Indian National Army (INA) or be taken as Prisoners of War (PoW). Surprisingly, most (40,000 out of 65,000) chose to stay loyal to their oath despite the gravity of situation being apparent. These soldiers, the author notes, were given to INA who tortured them at a Separation Camp (please note: INA, not Japanese). That fellow-Indians were involved in beating them, assigning them unreasonable manual labour, and denying them food and water for no fault of theirs' grieves the author.
From Singapore, the author along with others is transported to Sourabaya (Java), then to Rabaru (New Britain) via Palau in cargo streamer. The cramped conditions in the cargo, meager food and water supplies, and diseases from insanitation claim the lives of many more. Once, only once do the pangs of suffering become so acute that he breaks into a fervent prayer to God. Does He answer?
But there are more horrors in store. He's taken to the island of Raburu where the PoWs are asked to build shelters and get food without any raw material or help. Despite suffering from ulcer, malaria and fatigue at various times, the author was allowed no respite from the forced labour and indignities were heaped on them for no reason. At one point, the author and his friends beg their prosecutor to kill them!
The tide of war turns and Allied Forces (US and allies) gain the upper hand. The Japanese defeat is precipitated when they face the heat of atom bombs and they leave. We know that the author survived (he wrote the book, after all), but what became of the Japanese who suddenly experienced a reversal of fortune?
How did the tormented behave towards their former tormentors? How did the author respond when presented with an opportunity for retribution? What were their feelings on their return journey, after years of captivity?
Read this "handsome tribute to a man of courage and rectitude"*.
In popular imagination, INA was an armed counterpart to the peaceful Gandhi-led movement in the chapter of Indian Freedom Struggle. However, from what the author records here, they were merely pawns to Japanese imperialist agenda. If Japanese would've conquered India, India's fate might have been much worse and pitiable. Elsewhere, the editor quotes Pico Iyer (who married a Japanese woman and has been living in Japan), "In Japan, Indians are the lowest of the low." Such is their contempt for Indians.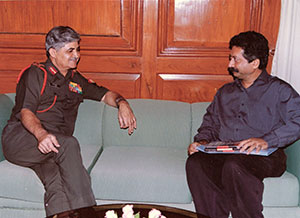 Editor-son Richard Crasta with General Malik
But having lionized INA, Indian establishment is reluctant to change its stance despite mounting evidence to the contrary. Indeed, rewriting history invites the shrillest opposition from "eminent historians" (to borrow Arun Shourie's term) and invariably gets muddled into political waters. The editor (son) sent the book to General Malik (then Army Chief) and George Fernandes (then Minister of Defence) among others and met them. While Mr. Fernandes was formal, General Malik gave him a warm welcome and even expressed his desire to meet the author who unfortunately didn't live on to see the day. Apparently, so invested is the establishment in the current narrative, that they aren't prepared to touch it.
The closing essays by son, Richard Crasta, rue about the lost opportunity to let the Indian public know the actual happenings at war. What pains him most is that Japanese still haven't issued an apology for their appalling act of inhumanity.

The author notes that Japanese practiced cannibalism, a claim that has been since been backed by several other prominent historians. Several PoWs were killed, and their body parts were eaten by the Japanese (hence the book's title).
Author autographing the book

The poignant tale of the father who cycled his way to office (or church) till his body won't allow him to is touching. Unwilling to subject his children to this gruesome tale, the book probably is an attempt by the author to

"exorcize his ghosts by consigning them to paper" (in the words of editor-son).
The book is first launched in a Church Hall by a renowned local speaker (also Vice-Principal of a medical college) who gives a passionate speech and touches the feet of the author as a mark of reverence.
But publishing the book was only a partial repayment of the son's gratitude - he had another important filial duty to fulfil. Is he able to perform that?
I'd urge all to read this fascinating tale of suffering, survival and redemption.
His father taught him: "
that to have suffered through a rough life, and to have smiled and survived, is to have been a hero."

PS: I bought the kindle version from Amazon.
* Words of Khushwant Singh on this book.
PS 2: I tweeted the link of this review to the editor-son of this book. He has kindly responded:
RT @madhavhere: @richardcrasta Been reading few of your books. You're a modern RK Narayan with an overdeveloped independent streak :)

— Richard Crasta (@richardcrasta) January 26, 2016
— Richard Crasta (@richardcrasta) January 31, 2016
@madhavhere Thanks for your review of "Eaten by the Japanese", and my "overdeveloped independent streak." We live one life: why be a slave?

— Richard Crasta (@richardcrasta) January 31, 2016